If you are keen on expanding your sexual horizons and need something to spice things up in the bedroom, then we suggest you give strapless strap-ons a try. There are a lot of strap-ons on the market, but the strapless strap-on may be the best choice for you and your partner, as it lets you spice things up and enjoy various sexual acts without the harness and straps between your bodies.
If you like to peg your man and also enjoy yourself at the same time, then this is for you. Also, lesbian couples can enjoy it, as it allows simultaneous stimulation for the wearer and the receiver. Since strap-ons are getting popular among various users, we have prepared the following guide to help you learn how you can select a strapless strap-on that will provide you and your partner deep pleasure.
What is a Strapless Strap-On?
For those of you who don't know, here is a short definition and explanation of what is a strapless strap-on. Unlike a regular strap-on that requires a harness, the strapless strap-on is a sex toy that requires no straps or harnesses to be used. One end of the toy gets inserted in the vagina – the part shaped like an eff, while the insertable probe, shaped like a dildo, goes into the other partner. We have prepared a more detailed guide on this topic.
Strapless Strap-On Types
Strapless strap-ons come in many shapes and sizes, and you can choose models made from different materials. However, we've used one key feature to divide these into two categories: non-vibrating strapless strap-ons and vibrating strapless strap-ons.
Vibrating strapless strap-ons provide you with ultimate pleasure for both partners. There are vibrating mechanisms on both ends; one stimulates one partner, while the other side stimulates the other partner. The vibrations can be controlled remotely in many models, which can increase the pleasure. Also, some models can be inflated, and they can fit more appropriately for needier users.
Non-vibrating strapless strap-ons may seem simpler, but they can also deliver the utmost pleasure. While these may look like their vibrating counterparts, these depend on manual stimulation, as they don't have any additional vibrating mechanisms.
You may have heard of this kind of toy, but you may not know how to use it properly and have been reluctant to buy one. Don't worry, as there are beginner models and models for experienced users. When you use a strapless strap-on, make sure that it is placed correctly, and it should stay in place when things become wild. So, you should consider the size and the added features. While some of these are welcomed, the wearer must control the movement of the strapless strap-on with the Kegel muscles, which can be challenging for some people.
Strapless Strap-On Shopping Options
We made you a list of the most important things you should know when purchasing a strapless strap-on. There are many subtle variants, so you should look for a model that fits both partners. If you both shop together, talk about what is enjoyable for you both and find the perfect fit.
If you want to surprise your partner, look for the most convenient one for both of you. There are simple and cheaper versions and luxurious and expensive ones. We suggest you opt for a vibrating strapless strap-on, preferably a wirelessly controlled model, for a wild, exciting experience.  
Insertable Length – On Both Ends
Size is one of the essential features of strapless strap-ons. But when you look at the size of the strapless strap-on, you must look at both ends – the vaginal bulb and the insertable probe.
The insertable bulb is inserted in the vagina and stimulates the wearer from the inside. It is usually shaped like an egg, and it nestles inside, which means the woman needs to have strong Kegel muscles to hold it in place. The neck of the toy sits on the outer part of the vagina and hugs the clitoral area, which is relatively similar in the various strapless strap-on models.
The other end is most often shaped like a dildo and can have a smooth or realistic shape. It goes into the other partner. Because of the nature of the toy and the material it is made from, it does not act as an actual penis, so size is significant. We suggest you opt for a smaller insertable size, especially if you are just starting with strapless strap-ons, because of the shape and make of the toy.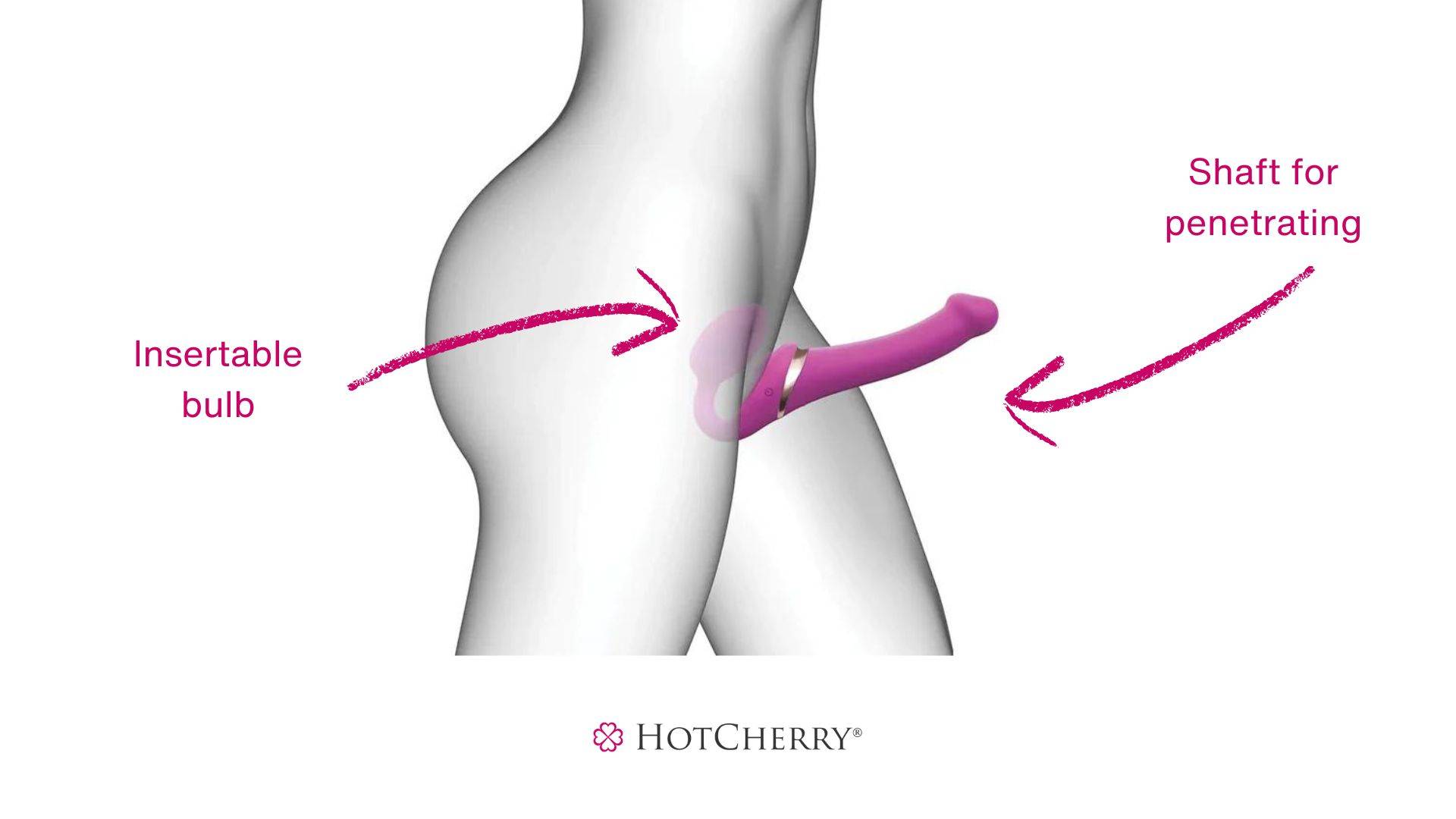 The Shape is Crucial
Almost all strapless strap-ons have similar shapes because of the intended use of this sex toy. However, you can select between options like a smooth or textured shaft, a smooth or textured clitoral part, and slight variations of the vaginal bulb. It is essential to know as everyone has specific needs. For inexperienced users or for pegging, consider smaller versions with smooth surfaces. If you feel confident, try the textured features.
Body-Safe Materials are a Must
We are always in favor of high-quality materials like silicone, ABS, TPE, PVC, or other body-safe materials. When it comes to strapless strap-ons, silicone should be the top choice. It has the right balance between firmness and flexibility, and it is bendable enough to bring pleasure to both partners.  
Vibrations are an Added Benefit
As we noted above, there are manual and vibrating strapless strap-ons. If you opt for the vibrating models, please note that the vibrations can increase the range of sensations and can provide deeper pleasure.
After testing many models, we found the ones that have independently controlled features to be the best suited for deeper stimulation. Having a wireless remote controller is excellent, as it allows you to control the vibrations conveniently and enjoy all the moments.
Strapless Strap-On Shopping Advice
We outlined the crucial aspects related to strapless strap-ons. So, please make sure you read our advice and learn how to choose the best product for you. It is also why we have condensed all of this info into a simple strapless strap-on shopping guide:
Shape & Size – selecting a strapless strap-on that fits both partners is essential, so always consider the shape and size of the toy. We always advise you to start low and go slow, building up your confidence as you expand your sexual horizons.
Strapless Strap-On Material – always opt for a phthalate-free body-safe material like silicone strapless strap-on. Other nonporous and body-safe materials that you can choose from are TPE and PVC.
Your Experience – considering your experience level is vital, but you should also think about the intended use. Do you intend to use it for vaginal sex, pegging, or solo play? The answer will point you in the right direction: for vaginal (girl-on-girl) use, you can get a strapless strap-on with a longer insertable shaft. On the other hand, for pegging, you will need a strapless strap-on with a smoother, narrower insertable shaft.
Lube Compatibility – one of the many essential things when using sex toys is lube. We prefer and always suggest a thick water-based lube, as this is compatible with all sex toy materials. While some may like the feel and long-lasting effect of silicone lube, this is not compatible with silicone or TPE toys.
Cleaning and maintenance – are essential for the safety and longevity of your product. We advise you to choose waterproof and nonporous strapless strap-ons, as these are the easiest to clean. You can wash your silicone toy with water and soap or any sex toy cleaner, and if you have a strapless toy made from TPE/TPR, it may require rejuvenating powder to keep it in condition. Cleaning and maintenance are easy for high-quality, well-built strapless strap-ons, but to be sure, always read the maintenance manual on your specific toy.  
Budget – always pick the best for your budget. You can see various models and various prices. Some are simpler, not vibrating, while others are luxurious and elegant, and they may cost you a bit more.
Everybody needs some experimenting when it comes to sex. We are all for it and support sexual exploration and pushing your boundaries. That is why we have prepared this guide on how to choose a strapless strap-on, but also why we have an excellently stocked store that carries a broad range of exciting sex toys and much more.
FAQ
How do I hold a strapless strap-on?
The strapless strap-on is created to be placed in the vagina and to stay in place while it is used on the other partner. It doesn't need much holding, but it needs the support of the Kegel muscles. This may seem like an issue, but when you try, you'll feel it is not complicated or uncomfortable. There are many options on the market, with different shapes and sizes, so look for something that will fit you. If you are exploring solo play, you can use one part at one place at a time.
Who can use a strapless strap-on?
The strapless strap-on is intended to be used by two partners: it can be used by a female and a male or by two females. One side, or the bulb, is placed in the vaginal channel, and the other side, or dildo, is used to penetrate the other person. Some of the strapless strap-ons can be placed in harnesses if someone prefers it.  
What is the best lube for strapless strap-on dildos?
We provide a list of suggested lubes for every product. The lube compatibility depends on the material the strapless strap-on is made from. We always recommend quality, water-based lubes that are compatible with all sex toy materials. Other lube options are silicone, oil, and hybrid lubes, but these are not compatible with all materials. Always check the manufacturer's recommendations on lube compatibility, and make sure you are not using silicone lube with silicone material.
Can we use a strapless strap-on for pegging?
Yes, indeed. We recommend using a strapless strap-on is intended for pegging couples. Many couples want to explore this sexual act further, and using a strapless strap-on, you can enjoy role play and experience pleasure.
Learn About our Favorite Strap-On Sex Toys