The rabbit vibrator is a popular classic for a reason. It simultaneously stimulates the clit and G-spot, helping you become faster and harder than ever before.
While rabbit vibes appear somewhat similar in terms of design, there are significant differences from one brand to another. To help you make the right choice, we've reviewed and ranked the 10 best rabbit vibes. On top of that, we've put together a comprehensive buyer's guide to empower you with some additional practical information.
Things to Consider When Shopping for a Rabbit Vibrator
You can easily decide if a rabbit vibrator is good enough by checking out the following:
Material: Rabbit vibrators have to offer consistent internal and external stimulation. To do so, they should be crafted from a semi-flexible material. This way, the two arms can flex with your body and give you the ultimate pleasure. Hands-down, the best material for a rabbit vibrator is medical-grade silicone. Silky smooth, non-porous, and somewhat flexible, it's super safe, very long-lived and it feels amazing against your most sensitive spots.
Rabbit design: The external nub of the rabbit vibe is the one that goes against the clit. Usually, it has rabbit "ears" that flutter to arouse and pleasure you. Some modern rabbit vibes, however, can have a more streamlined design that's missing the ears. A few models can also have a suction "mouth" where the ears are supposed to be. These rabbit vibes replicate the feeling of oral sex by gently sucking on the clit instead of vibrating against it.
Internal shaft shape and size: The shaft is the second important part of the rabbit vibrator's design. It's the one that goes inside the vagina and massages the G-spot. Usually, shafts are slightly curved, and they have a bulbous head to offer the most in terms of G-spot stimulation. Always check the size and the shape of this part of the vibrator. The insertable length and the girth are the two dimensions to pay the most attention to. Also, decide if you'd like to have a smooth shaft or a probe that comes with some texture for added stimulation.
Number of motors: Some of the best rabbit vibrators on the market are powered by two motors – one in the rabbit portion and one in the shaft. This way, you can control the vibrations in the fluttering ears and the shaft independently.
Vibration settings and patterns: A good range of vibration settings and patterns is a must to enjoy variety. Look for rabbit vibes that can give you both different speeds and rhythms. Sometimes, manufacturers describe these settings and what they feel like so that you get a better vision of using the product.
Other settings: Some rabbit vibes are capable of a lot more than just vibrating. In some instances, the shaft can thrust and rotate. These functionalities mimic having sex with a partner and can be a lot of fun to explore.
Vibration controls: How do you change from one speed to another? There are three main types of controllers available. Most often, rabbit vibes allow you to adjust via push buttons at the base (the handle). This design makes it very easy to use the vibrator with just one hand. Alternatively, a rabbit vibe can have a wireless remote or a dedicated app that you (or a partner) will be using to explore the different vibration settings.
Waterproof: It goes without question that a high-quality vibrator needs to be waterproof. Not only is such a vibe fun to use in the shower, but it's also a lot easier to clean and sanitize properly.
Battery features: Modern vibrators tend to be powered by rechargeable Li-ion batteries. While these can make a vibe a bit more expensive, you'll be saving a ton of money on buying replacement batteries. There are a few battery features to pay attention to. How long is the battery life after a single charge? Usually, you'll be provided with a lifespan at the maximum intensity setting and the amount of time the vibe can remain in idle mode. Also, how long does it take to get the battery recharged and what's the type of charger you'll be getting with your rabbit vibrator? Reputable manufacturers answer all these questions in their product presentations.
Additional practical features: While the things mentioned above are the most important ones, there could be a few additional essentials. If you do travel a lot, a travel lock and a carrying pouch will come in handy. Also, look for a vibe that has a battery indicator. Light-up buttons can also be a good feature, especially until you get to know your new vibrator better and become fully familiarized with it.
Best G-Spot & Clit Stimulator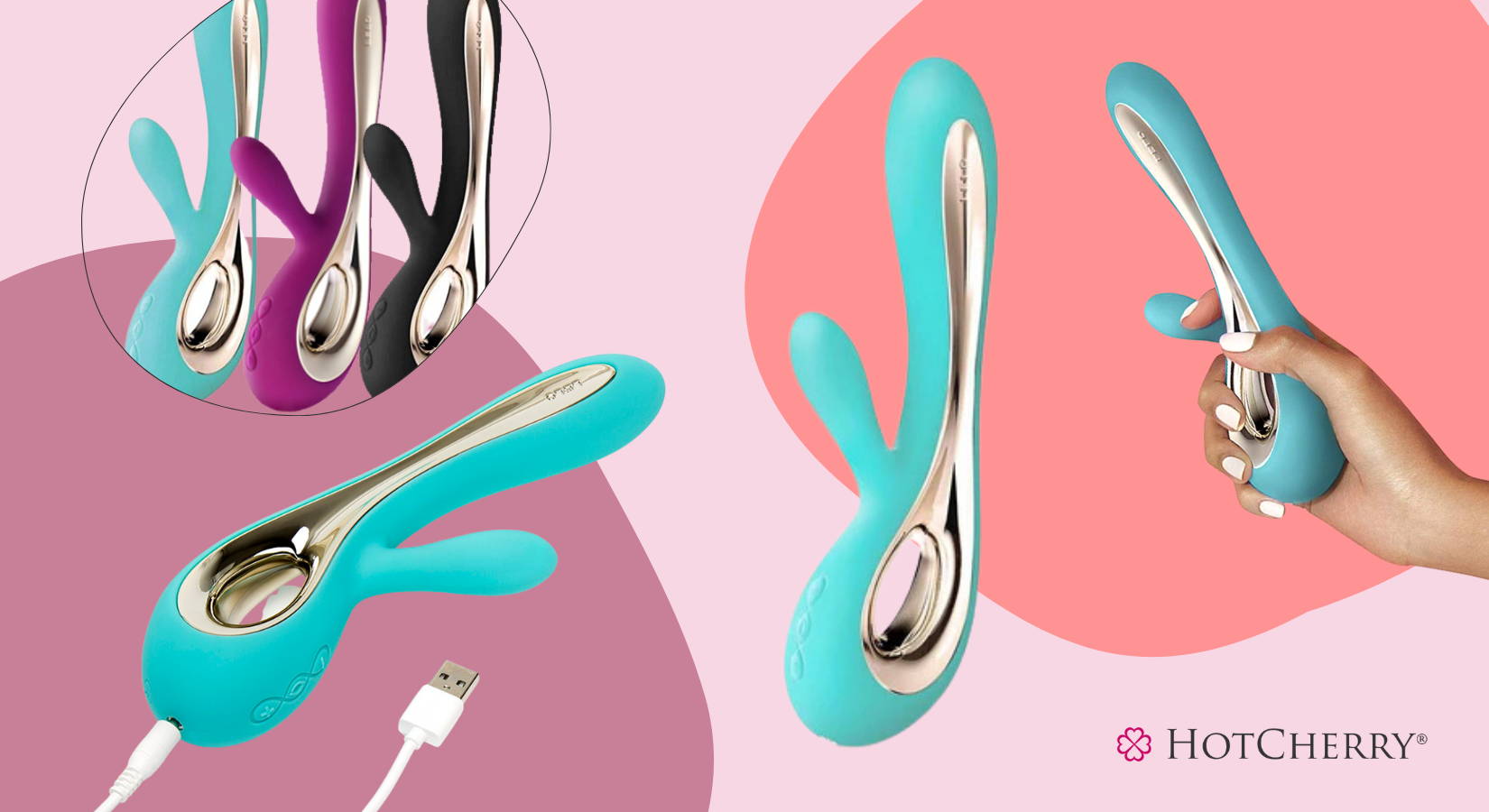 LELO SORAYA 2 G-Spot and Clitoral Vibrator
OVERVIEW
Come-hither motion of the tip
Ergonomic rabbit stimulator
8 pleasure settings
---
PROS
Super realistic G-spot stimulating action
Dual motors are powerful
Works quietly
Feels luxurious and well-made
CONS
A bit less powerful than the original Soraya
Come-hither motion can feel a bit repetitive
Here's a rabbit vibe that uses technology to give you one of the most realistic experiences possible. Lelo's WaveMotion tech is one of the things making Soraya 2 unique. It allows the G-spot shaft to move in a come-hither motion, resembling how a lover's finger would massage that sensitive place. Additionally, the vibe has an ergonomic design and a fully flexible external arm that will give you perfect clitoral stimulation regardless of your anatomy. Ultra-smooth silicone feels lovely and luxurious against your skin. It also offers Soraya 2 waterproof and non-porous characteristics. Push-button controls make it very easy to switch between the eight vibration patterns and choose the right WaveMotion intensity. The vibe is powered by a rechargeable battery that will give you a sufficiently long run time.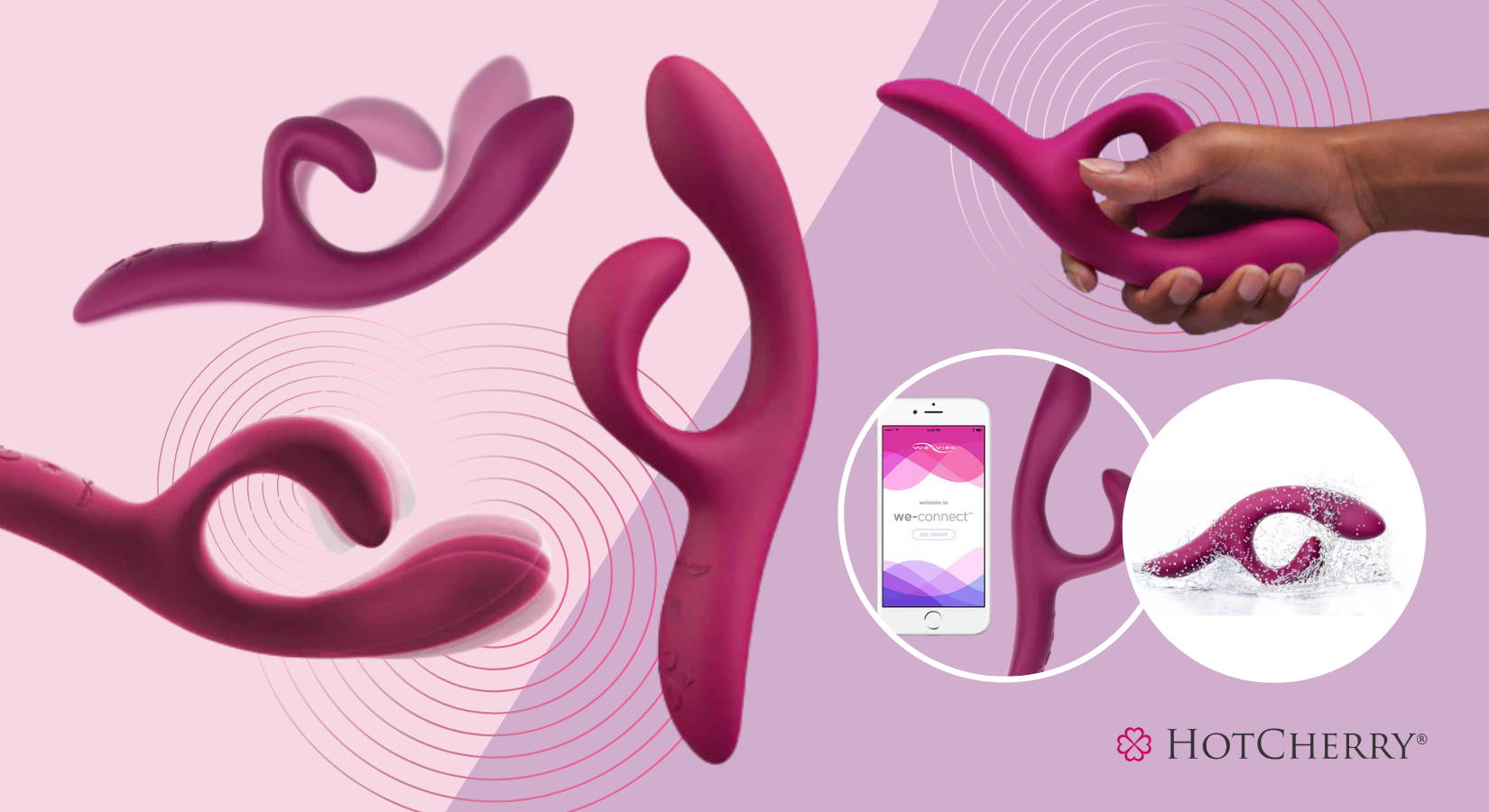 We-Vibe Nova 2 Rabbit Vibe
OVERVIEW
Constant contact clit nub
Customizable separate vibration patterns
App controls available
---
PROS
Really powerful and highly customizable
Feels well-made with high-quality materials
Clitoral stimulation arm bends for constant contact
Easy to use, functional app
CONS
Some issues setting up the phone app
Some users wished the vibrations were more powerful
We-Vibe Nova's modern design isn't just excellent – it's strategically chosen to optimize your pleasure. Both arms flex to move with your body and ensure constant stimulation. Two motors power the G-spot shaft and the clitoral nub, allowing you to control the vibrations independently. Speaking of vibrations, there are some pre-programmed settings, but you can also come up with your rhythms and patterns. Vibration mode and intensity can be adjusted via push buttons at the base of the vibrator. Alternatively, use the dedicated mobile app to turn your smartphone (or your lover's device) into a remote. Nova 2 is crafted from silky smooth silicone and is fully waterproof. The vibe is also travel-friendly as it has a travel lock for guaranteed discrete transportation.
Best G-Spot Rabbit Vibrator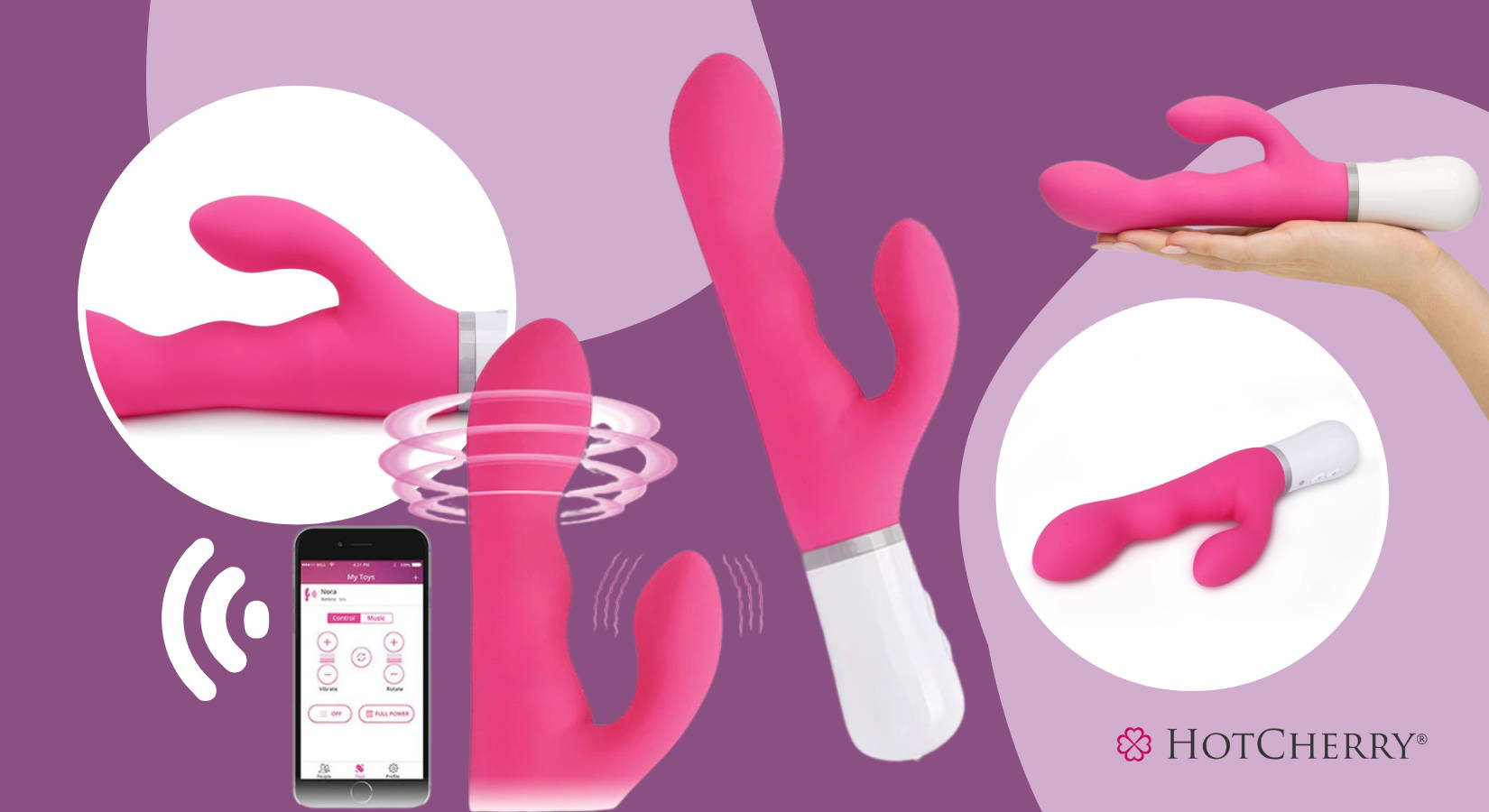 Lovense Nora Bluetooth Rabbit Vibrator
OVERVIEW
Wave-shaped shaft with a rotating head
Long battery life (4 hours max.)
App control feature available
---
PROS
Powerful vibrations do deliver on pleasure promise
Well-made with high-quality materials
App connectivity is excellent
Excellent battery life
CONS
A bit expensive
Some issues with the magnetic charger
Some users found it a tad big for comfort
Lovense Nora gives you a modern take on the classic rabbit vibe. The wave-shaped shaft and rotating head have been ergonomically designed for the most stimulating G-spot massage. The clitoral nub is flexible and slightly curved to give you constant contact, no matter how you move. Two motors work independently from each other and can be controlled separately. You can easily customize your experience to match your mood and pleasure needs. Nora can be controlled in two ways – via the push buttons at the base of the vibrator or through the dedicated app. It's so easy to turn your smartphone into a remote control. Long-distance control is also possible (a great perk if you're in a long-distance relationship). This rabbit vibe is crafted from silky smooth silicone and is fully waterproof. Nora's powered by a rechargeable battery, will give you an impressive up to four hours of run time.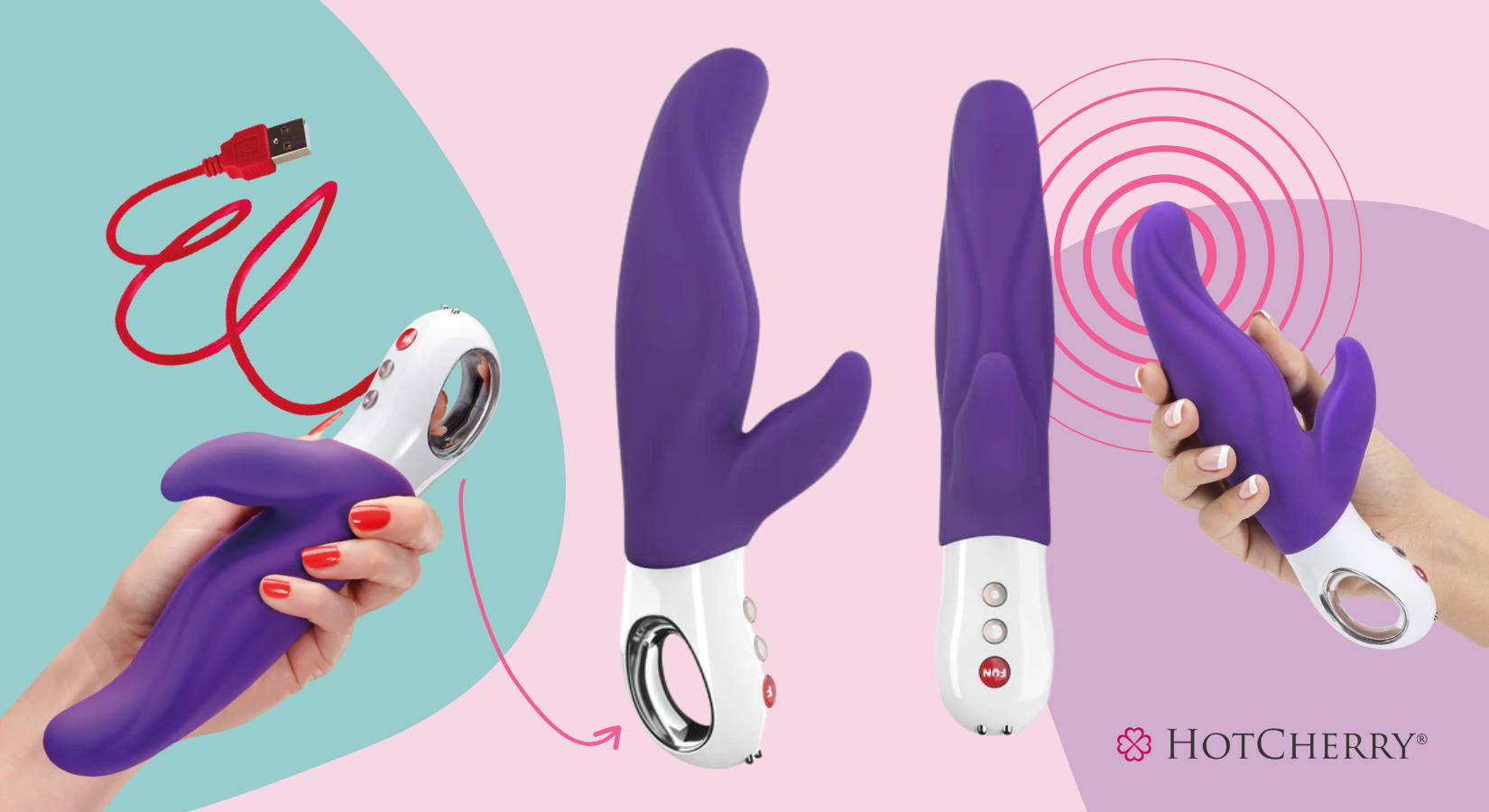 Fun Factory Lady BI Rabbit Vibrator
OVERVIEW
6 intensities, 6 vibration patterns
Ergonomic easy hold loop handle
Up to 45 min. battery life at highest setting
---
PROS
Lots of great vibration settings
Feels very authentic, perfectly targeted stimulation
Well-made, sturdy
Silicone feels exceptionally flesh-like
CONS
The shaft is on the bigger side
A bit expensive
Two powerful motors can work together or independently to make your wildest dreams come true. These work together with Fun Factory's FlexiFUN technology – a slightly flexible shaft that's also quite thick presses against the vaginal walls to stimulate both the G-spot and the A-spot. Located deep inside the vagina, the A-spot can be difficult to stimulate. Reaching it, however, can produce powerful, full-body orgasms. Lady Bi has been designed to make the task easier, so get ready for a mind-blowing climax. On top of that, you get a clitoral stimulator that gives you six vibration patterns and six intensities. Crafted from luxurious silicone, the vibe is completely body-safe and it's also waterproof. A rechargeable battery will give you 45 minutes of continuous fun at the highest setting.
Best Luxury Rabbit Vibrator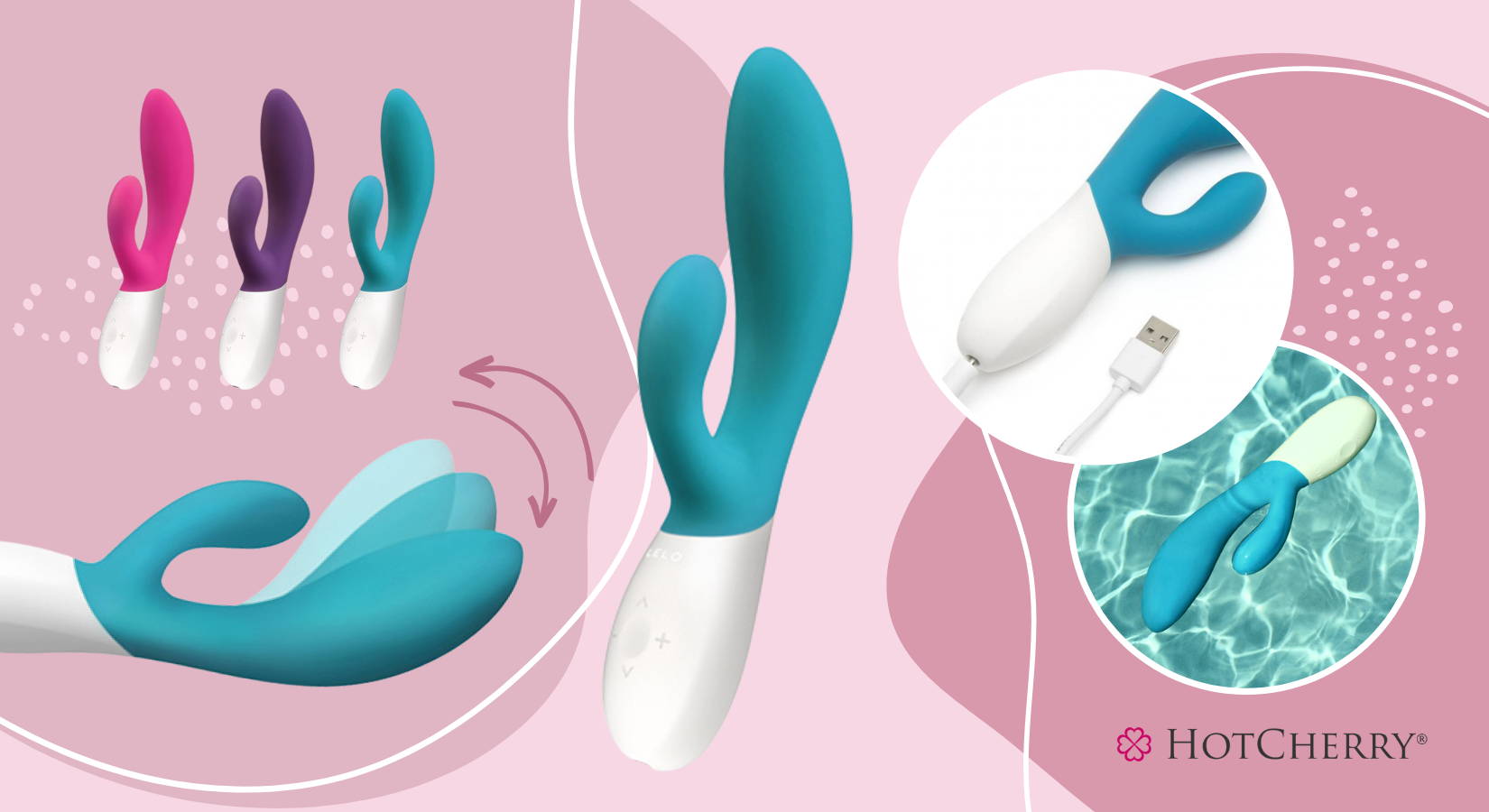 LELO INA Wave Rabbit Vibrator
OVERVIEW
Come-hither motion for G-spot stimulation
10 vibration & wave modes
Rechargeable, waterproof and lockable
---
PROS
Really powerful and stimulating
Solid, well-made, and featuring high-quality materials
Works silently
Holds charge nicely
CONS
The clitoral nub isn't very flexible
The come-hither motion requires some getting used to
WaveMotion technology by Lelo is inspired by the caress of a lover's finger. It allows Ina to move in a come-hither motion, ensuring the most delicious and orgasm-inducing G-spot massage. And since this is a rabbit vibrator, you also get an ergonomic external arm that will buzz against your clit for the perfect blended orgasm. An intuitive integrated control pad makes it very easy to switch between settings and explore everything the two powerful motors offer. With 10 vibration patterns and incrementally adjustable speeds, you'll get a ton of variety to look forward to. Ina is crafted from super-soft, hypoallergenic, and waterproof silicone. It is powered by a rechargeable battery that will give you up to two hours of continuous use.
Best for Intense Sensations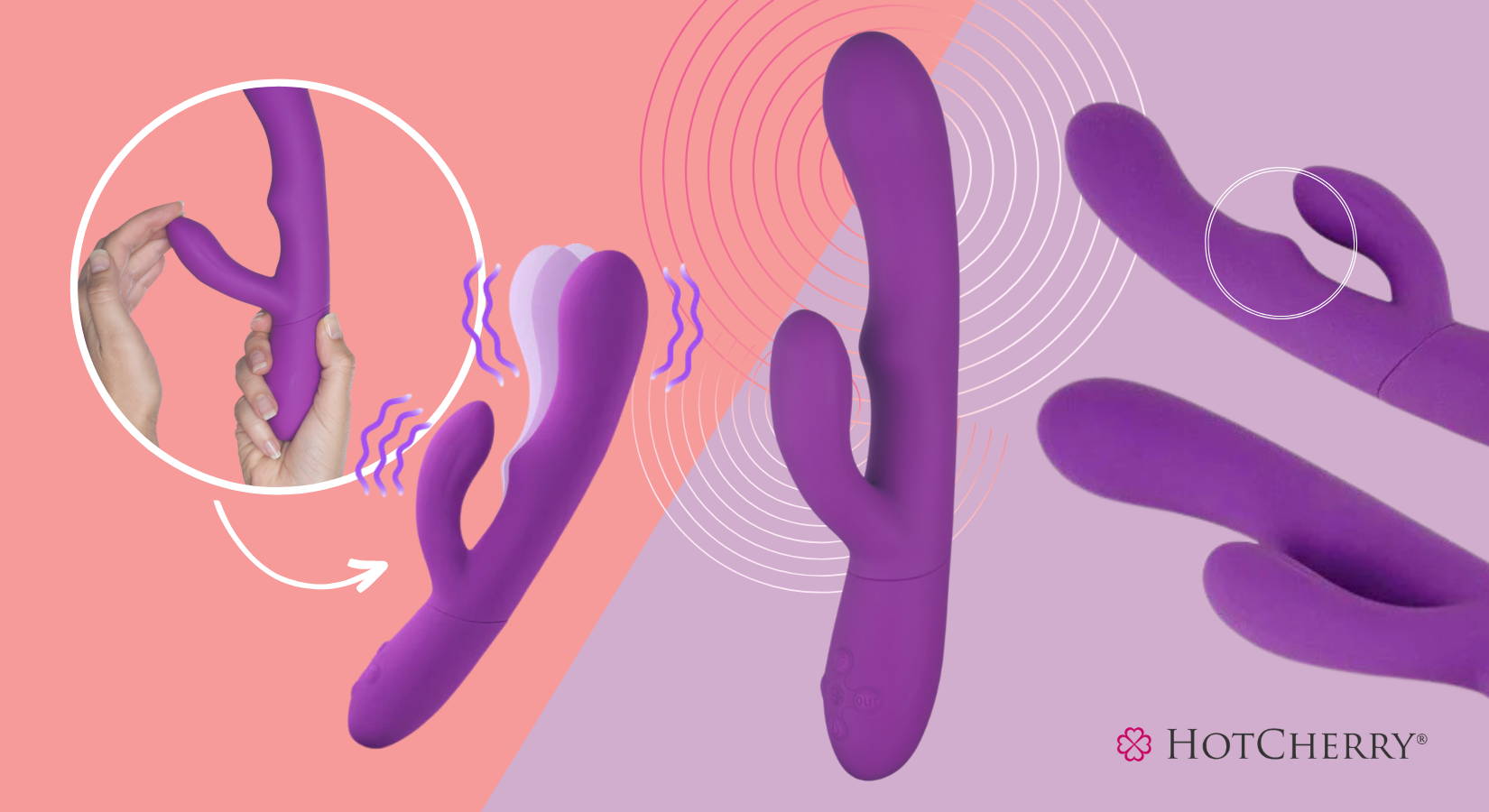 FemmeFunn Ultra Rabbit Vibe
OVERVIEW
10 internal & external vibration modes
3 dynamic motors
Come-hither motion for G-spot stimulation
---
PROS
Three motors, powerful
Lots of vibration settings to explore
Made from well-made materials
Works silently
CONS
Some issues with getting the vibe recharged
If two motors aren't enough for you, Ultra gives you three. These deliver 10 independently controlled internal and external functions (as well as a memory function that can come in handy) plus a separate come-hither setting. Mimicking the movement of a lover's finger, it's the perfect choice for consistent and orgasmic G-spot stimulation. The vibe's contoured body has been created to offer everyone unique experiences, although bodies are different. A sculpted ridge is a fun little feature. Placed strategically on the shaft, it keeps the vibrator in place and allows you to experience hands-free fun. Ultra is 100 percent waterproof and crafted from premium silicone. Operation is super quiet and discrete for added convenience. You also get a long-lived rechargeable battery.
Best Thrusting Rabbit Vibe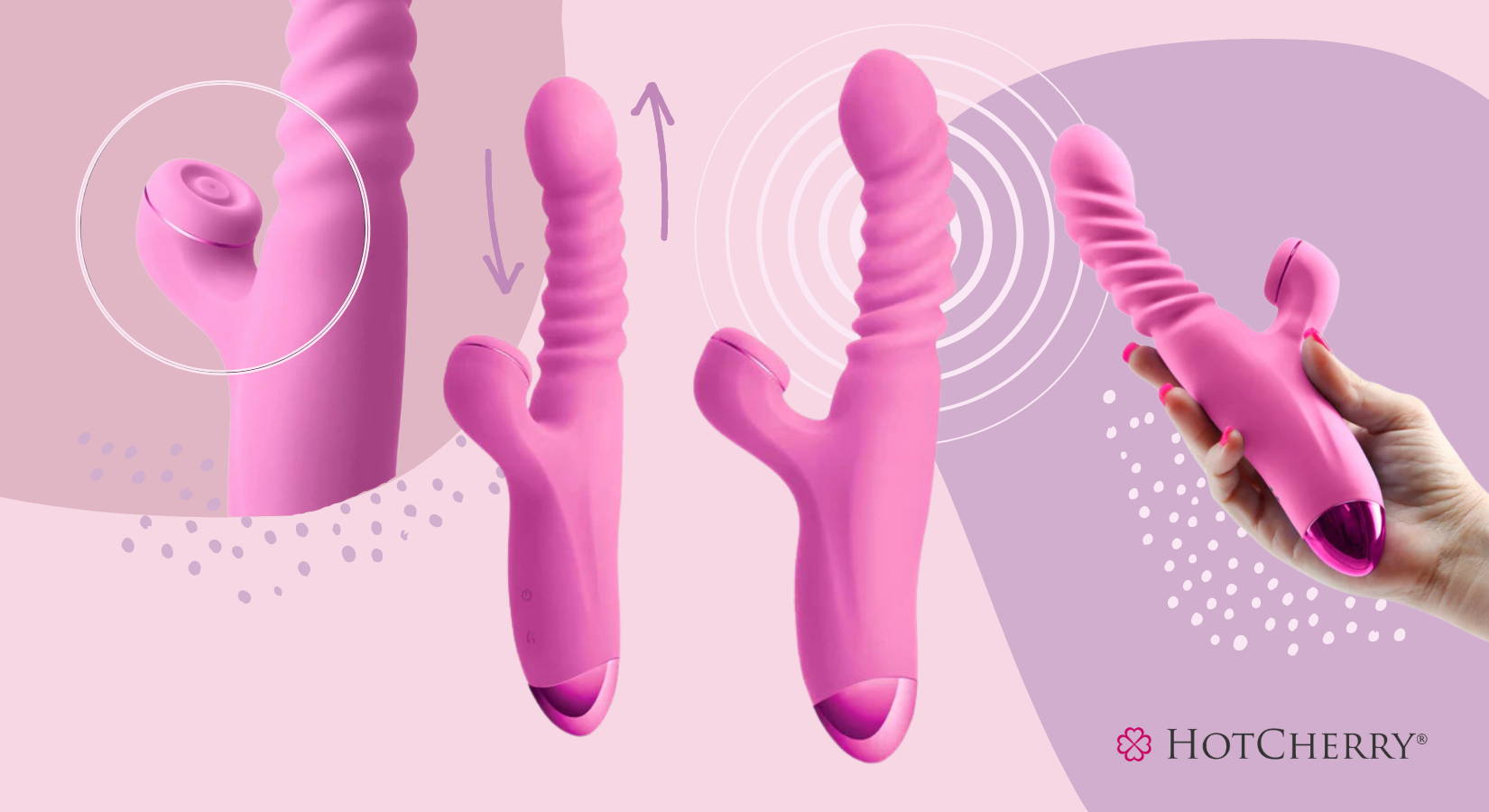 Luxe Nova Thrusting & Throbbing Stimulator
OVERVIEW
Thrusting G-spot probe
Warming option
Thumping for more powerful clitoral
---
PROS
Vibrations, thrusting, and thumping action available
Very reasonably priced
Really stimulating
Easy controls
CONS
Not waterproof
Shaft ridges may not be everyone's cup of tea
Luxe Nova gives you a couple of unique things you wouldn't find in many other rabbit vibes. The shaft has textured ridges that deliver extra stimulation because the vibe gives you a thrusting motion. The clitoral arm has a thumping feature that's incredibly arousing and very different from typical vibrations. On top of that, you get a warming feature that will quickly bring the vibrator to a comfortable body temperature. Nova is effortless to control via push buttons at the base. Hence, you'll need just one hand to hold the vibe in place and explore everything it has to offer. Nova is crafted from silicone, but it's only water-resistant (you can wash it without submerging it in water). Powered by a rechargeable battery, this vibe will give you up to 70 minutes of continuous use.
PROS
Excellent price to quality ratio
Easy to use
Powerful vibrations and two independent motors
CONS
Could feel a bit stiffer than other rabbit vibes
Some users found it a bit too small
With two motors that can be controlled independently, Device Vibes will make you come precisely how you want to. You get 10 separate vibration functions that are easy to switch between at the touch of a button. Also, the rabbit vibe heats up to body temperature for enjoyable use. Ergonomically designed and compact, this vibrator is easy to insert. At the same time, it will give you the intense action to stimulate the G-spot consistently and produce deeply satisfying long orgasms. Made from phthalate-free, hypoallergenic silicone, the heat-up vibe is super safe. It is also fully waterproof for effortless cleaning. Like other high-quality rabbit vibrators, this one is powered by a rechargeable battery. You'll get up to one hour of playtime with a single charging session.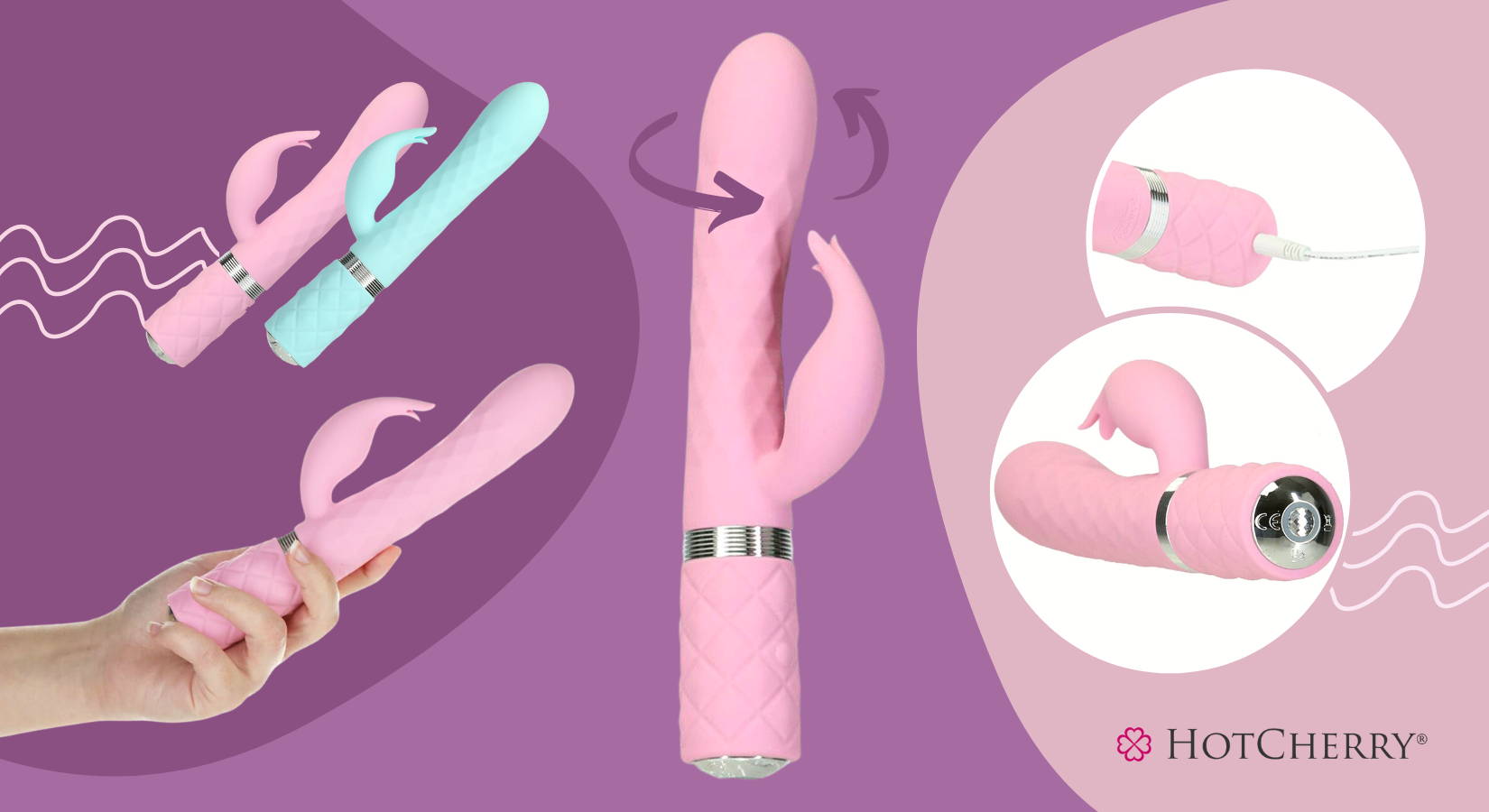 PILLOW TALK LIVELY Dual Stimulation Vibrator
OVERVIEW
Dual motors for independent stimulation
Three-point rabbit
Incremental speed controls
Shaft rotates on top of vibrating
---
PROS
Luxurious, unique design
Powerful vibrations
Three-point rabbit is very stimulating
Effortless, intuitive controls
CONS
No thrusting, rotation, or come-hither G-spot stimulation
Not everyone is a fan of textured vibes
While it looks super cute and almost like a piece of jewelry, the Pillow Talk Lively rabbit vibe is also incredibly powerful and highly customizable. Two motors work independently from each other, allowing you to make separate adjustments to the internal and external vibrations. Unlike other rabbit vibes that have two ears for clitoral stimulation, this one gives you three contact points. Incremental speed controls make it easy to make slight changes and discover exactly what works for you. Vibration settings can be explored at the push of a button. The control pad is located at the base of the vibe, allowing single-hand use. Made from silky-smooth silicone, the vibe is decorated with Swarovski crystals for some added luxury. It also has a convenient travel lock, turning the vibe into the perfect travel buddy.
Best Rabbit Vibe with Rotating Head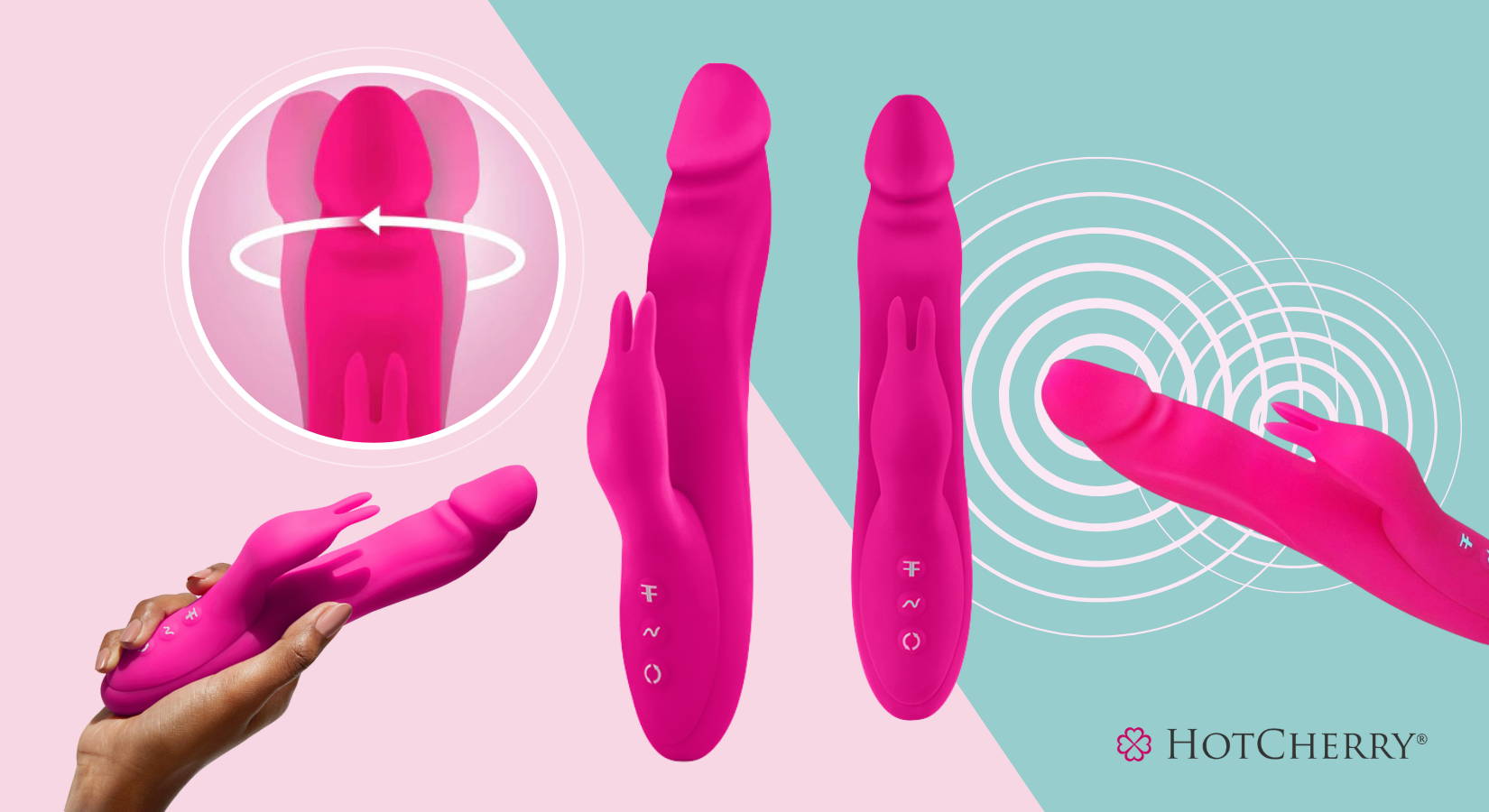 FemmeFunn Booster Rechargeable Rabbit Vibrator
OVERVIEW
Two independent motors
Seven vibration, three rotation speeds
Backlit control buttons
Booster button for maximum intensity
---
PROS
The backlit control panel is super convenient
Feels well-made and luxurious
Lots of vibration/rotation settings to explore
Perfectly sized
CONS
Some issues with holding charge
FemmeFunn's Booster looks girly and innocent but doesn't be fooled by its appearance. Two motors ensure powerful vibrations that you can customize and use separately or together. With seven vibrations and three rotation speeds (the head can spin at 360 degrees!), this vibe is the tool to use for a perfect blended orgasm. And when you're ready to get there, press the booster button to get 10 seconds at the highest setting. Cast from liquid silicone, the Booster vibe feels incredibly lifelike. It's also waterproof and very easy to clean. Backlit buttons make adjustments effortless. And while the vibe is a powerful one, it works silently and discretely. USB rechargeable, Booster will give you about 2.5 hours of continuous run time.
Final Words
A rabbit vibrator is a must-have if you enjoy powerful orgasms. Not only does the design allow for simultaneous G-spot and clitoral stimulation, but the vibe can also be used against numerous other erogenous zones. It's such a fun product to incorporate into your solo routine, foreplay, or sex with a lover.
Good rabbit vibes need a few things – ergonomic design, two motors, and effortless controls. All the vibrators in our rankings give you such features and then some more.
As you've probably seen already, rabbit vibrators can have lots and lots of additional functions or settings. Don't be afraid of exploring and looking for something very specific that you enjoy. Chances are that at least a few reputable brands have to offer exactly what you need.